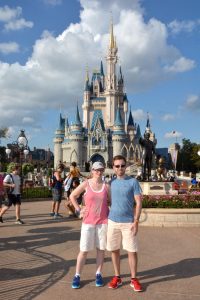 First off all, there is me, Benjamin. I am a passionate baker, confectioner and pastry chef. After my training I have gained experience in Switzerland and for a long time on cruise ships. After 3 years in Hamburg I am, or we are, now moved back to the beautiful Hesse.
In addition to my job, I love traveling, photography, concerts, musicals and amusement parks. Just everything that is fun. I've been presenting this whole stuff since 2014 here on the blog.
Brand new here on the blog is my better half, Marina. She is a restaurant master and state certified sommelier and has been also on cruise ships for several years. She had to endure all years, that I put every spare minute in the blog. But since November 2017, she is on board and will inspire you here on Reisegabel with wine presentations.
Here we want to share the many great experiences, pictures and the sometimes crazy recipes with the whole world. We wish you a lot of fun with it and any feedback is very welcome.
Marina & Benjamin